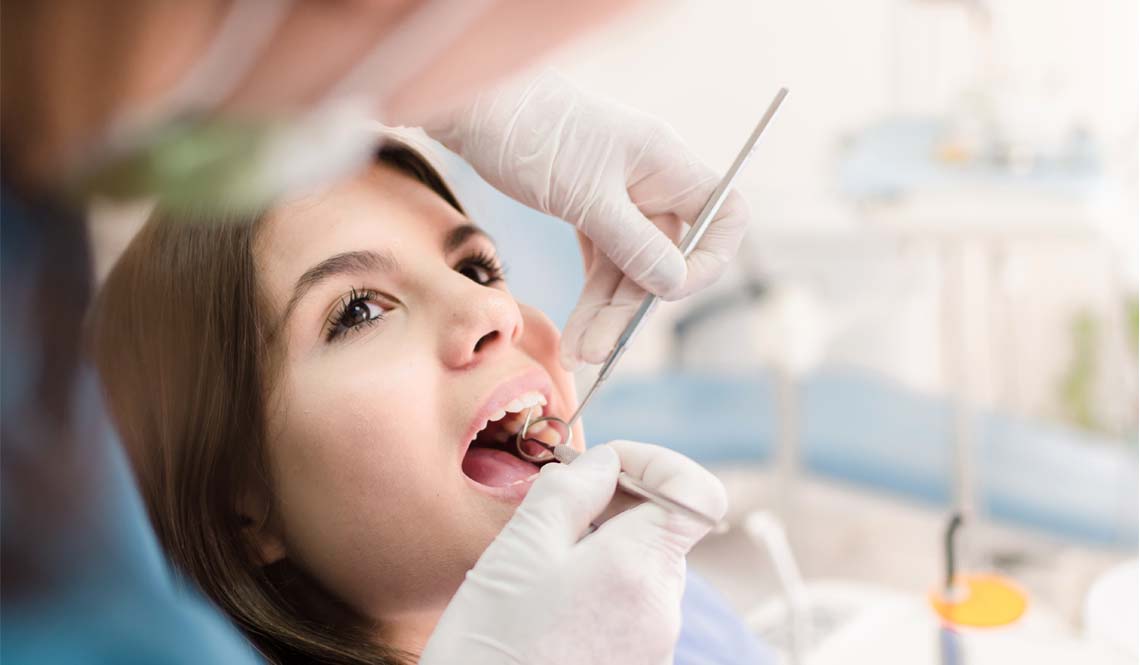 Prevention
Preventive dentistry includes regular examinations and treatment by a dental hygienist. The basis of prevention is proper care of teeth and gums....
Preventive dentistry includes regular check-ups and treatment by a dental hygienist. The heart of prevention is proper care of the teeth and gums. Regular care helps prevent tooth decay and gingivitis, or periodontitis. Digital imaging equipment such us an X-ray machine, OPG machine, dental microscope and other magnifying equipment help us in examination and diagnosis by:
Detecting cavities and bad fillings,
Detecting cavities in places that can't be seen with the naked eye – interdental spaces and underneath fillings.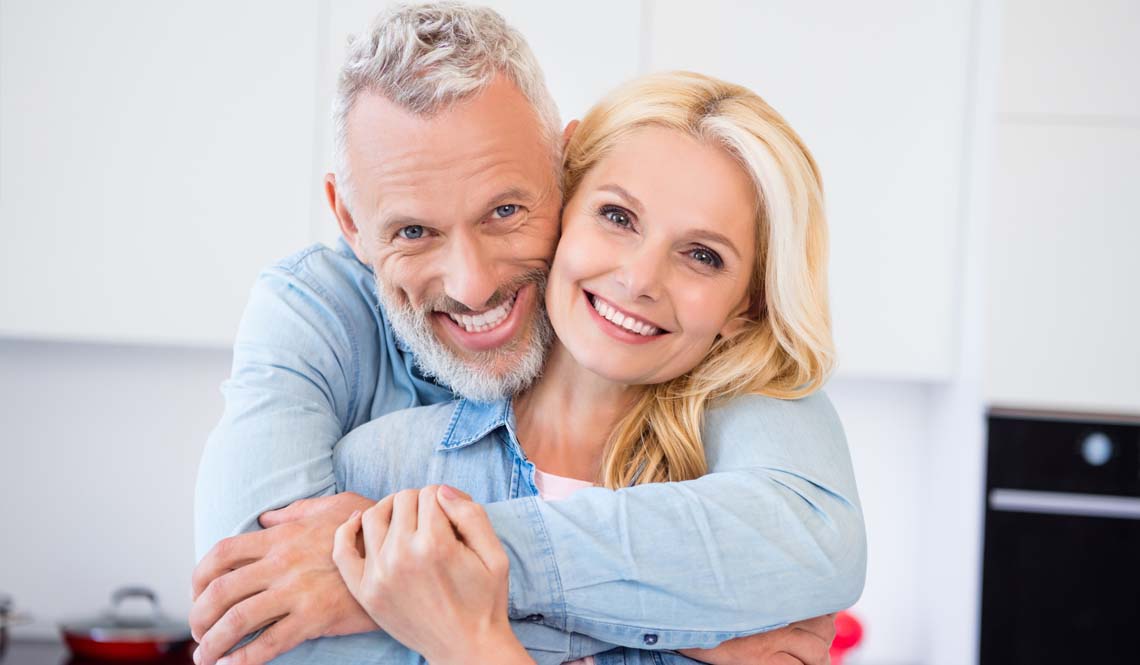 Restorative Dentistry
Restorative dentistry deals not only with the correction of dental defects, but also with prevention in the form of sealing of just cut teeth...
Many people experience a wide range of dental problems due to tooth decay, gum disease, jaw joint problems, abscesses or even accidental damage. Restorative dentistry deals not only with the correction of dental defects, but also with prevention in the form of sealing teeth (mainly done on children's teeth) supported by professional and at-home oral hygiene. In the area of filling therapy, there are several types of fillings to choose from:
Composite fillings
Composite fillings also known as "white fillings" are popular with customers because the colour can often be matched to the color of the surrounding teeth. They are made from a combination of acrylic and ceramic resins. The materials used for composite fillings is also an essential material for low-impact tooth reconstruction such as chipped teeth repair and filling in small gaps between teeth.
Glass ionomer fillings
Glass ionomer fillings are made with a kind of glass and acrylic (milky colour) and can be placed directly in the tooth. They material is typically used for small cavities near the gumline (not on chewing surfaces), is durable and easy to apply.
Amalgam fillings – no longer in widespread use
This is one of the oldest types of filling. They are strong and hard wearing. Amalgam fillings have antibacterial effects; however, they can only be used in limited cases and often lead to unnecessary destruction of the tooth.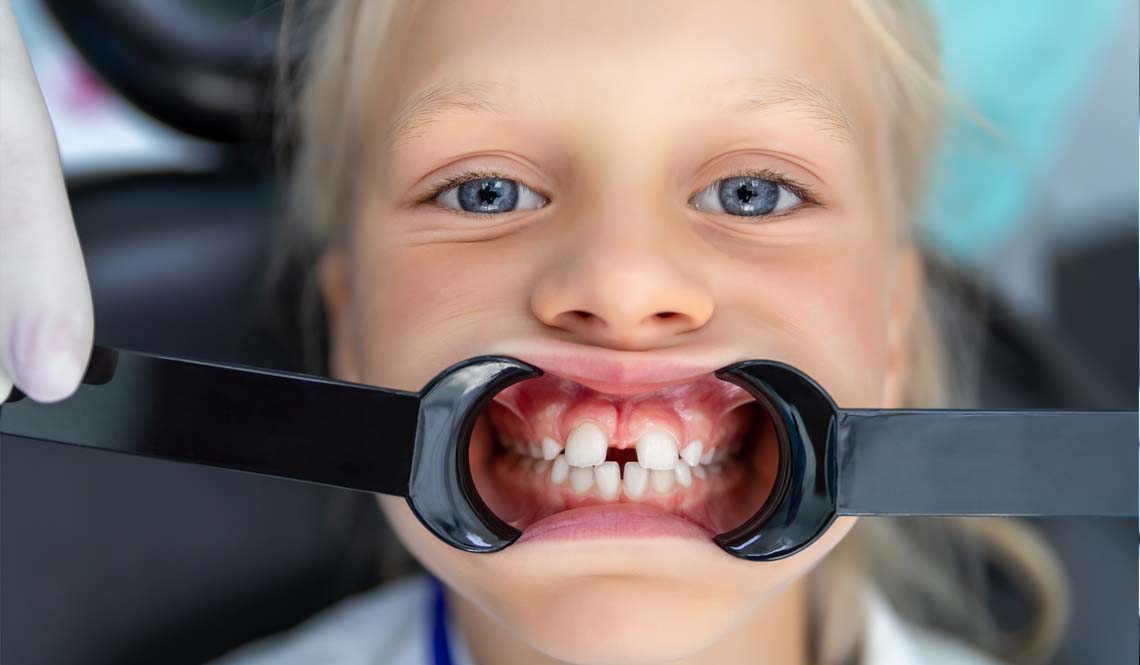 Children's Dentistry
Temporary teeth require the same attention and care as permanent teeth. During the first visit to the dental office, the child gets acquainted...
Caring for milk teeth
Children should have their first check-up with a dentist at the age of one year. Expectant mothers should make a visit to their dentist during pregnancy – they will learn how and when to start caring for their child's teeth, what to look out for, and when to begin regular preventive check-ups.
Milk teeth require the same attention and care as permanent teeth. During the first visit to the dental clinic, the child gets acquainted by the environment of the dental clinic, touches the tools, meets the dentist and the nurse and they may even let their teeth be counted. It might seem very young, but this is one of the best ways to ensure a child does not develop a fear of the dentist.
Parents will learn what sort of toothpaste to use and how much, as well as how to properly brush their children's teeth.
Early treatment of caries in baby teeth is vital for oral health. Rotten teeth and leftover roots can only lead to painful complications that can be avoided.
Caring for permanent teeth
At the age of 5 or 6, children get their first permanent teeth. If the dentist thinks it necessary, teeth with deep pits and grooves on the biting surface can be sealed. Grooves and pits can be difficult to reach with a toothbrush and tooth decay is more likely to appear here once the tooth has grown in. To prevent this, a "sealer" – a white filling – is applied to the grooves and pits.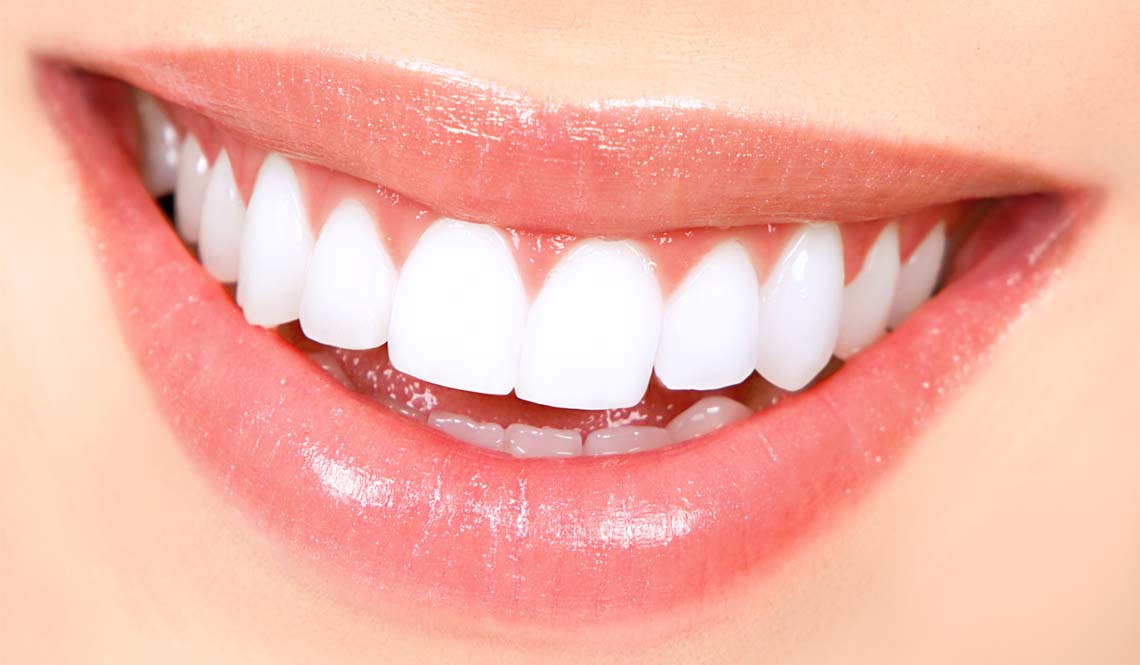 Aesthetic Dentistry
The goal of modern dentistry is a perfect reconstruction of dental tissues, both functional and aesthetic. We use materials and working procedures...
The goal of modern dentistry is the perfect reconstruction of dental tissues, both functionally and aesthetically. We use materials and procedures that meet these requirements. Light-cured resins – white fillings – are applied for most of our fillings, with an emphasis on maintaining as much healthy tooth tissue as possible.
We replace more extensive defects with metal-free ceramics and other modern aesthetic materials. Combined with modern adhesive fixing systems, these are a beautiful, durable solution. They are biocompatible and non-allergenic.
The most common procedures include:
Teeth whitening,
Dental veneers,
Dental crowns,
Dental bridges,
Ceramic fillings (inlay, onlay, overlay),
White fillings (composite).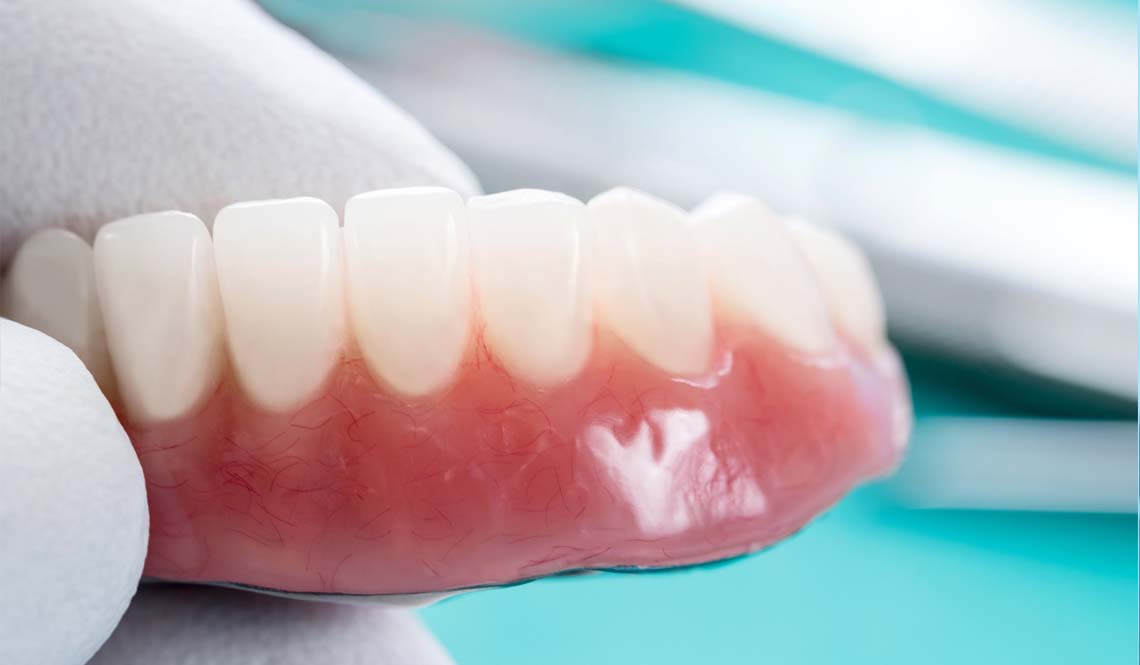 Dental Prosthetics
Dental prostheses are solutions that can replace missing teeth. Their task is to replace the tooth not only visually but also functionally. They...
Dental prosthetics deals with the reconstruction of one or a groups of teeth in case of loss of a limited or complete number of teeth. They are used when there is no longer any way to save a damaged or problematic tooth, or when a tooth is already missing. The tooth replacement must be both functional and aesthetic.
All prosthetics are individually prepared and are precisely customized to fit the client perfectly. The range of dental prostheses can seem overwhelming, but our dentist can explain the most effective option for your dental needs.
Dental prosthetic options:
Dental crowns – (porcelain fused to metal, ceramic, zirconia, composite)
These are used when there has been a loss of hard tooth tissues due to decay or trauma.
Dental bridges (porcelain fused to metal, ceramic, zirconia, composite)
Fills the gap left by one or more missing teeth.
Dental veneers
If the tooth is not damaged, veneers are a simple, aesthetic aid. They are used, for example, when part of a tooth has been chipped off as a result of an accident or in the case of uneven and damaged tooth surfaces.
Ceramic fillings
Ceramic/composite fillings are mainly used for more extensive defects when the tooth cannot be repaired with a simple filling. There are 3 types of fillings: inlays (replaces a smaller part of the tooth), onlays (replaces a larger part of the tooth), overlays (used on the molars – chewing surfaces).
Implants
An implant is a titanium screw inserted into the jawbone by a minor surgical procedure. Its task is to create a stable, fully fixed base for a new tooth. When the wound has healed, a crown or a bridge is put in place Implants can replace one, several or entire rows of teeth.
Removable full dentures
Full dentures replace a full set of missing teeth.
Removable partial dentures
Partial dentures replace a large number of missing teeth.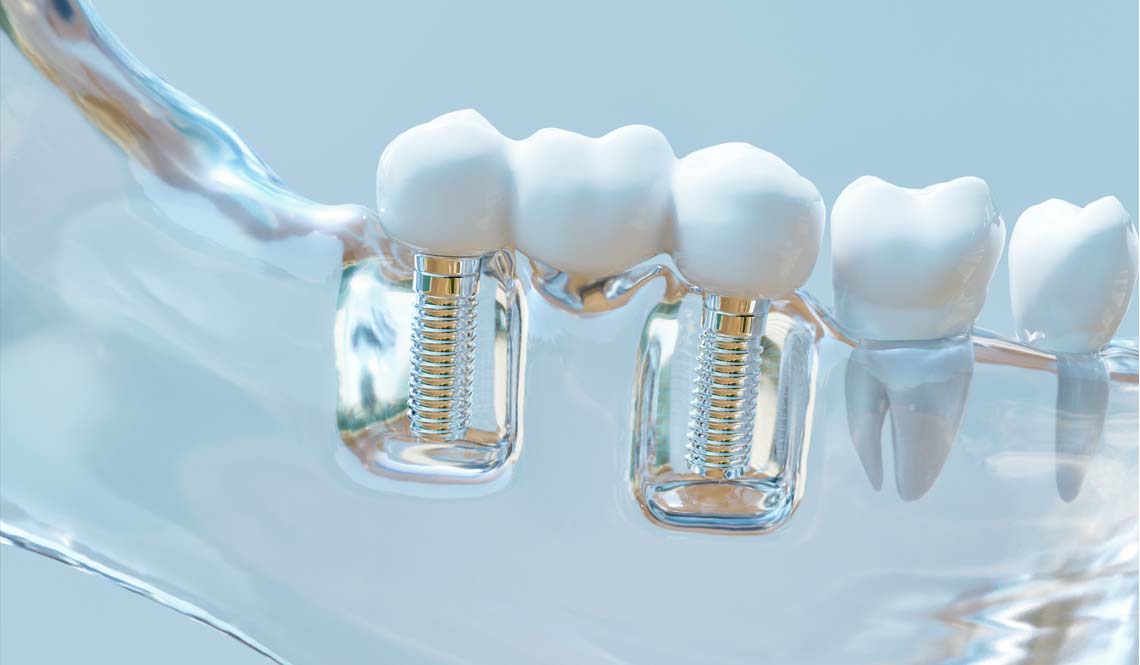 Dental Implants
Implants act as artificial tooth roots that can carry solid prosthetic work - crowns or bridges. Thanks to them, restorations are made that replace...
Implants are a titanium posts that are surgically placed in the jawbone to act as an artificial tooth roots that can support fixed prosthetic work – crowns and bridges. They can be used to help replace anything from a single tooth to the entire dental arch. The implant-crown combination serves as a full-fledged replacement for the missing tooth.
Unlike removable dentures, implants are fixed in place and do not need to be taken out overnight. One advantage is that the crown or bridge can be painlessly and easily removed, repaired and put back on if necessary.
Life expectancy for dental implants
With proper care and regular dental cleaning scheduled at least once every six months, you will likely keep your implants for the rest of your life.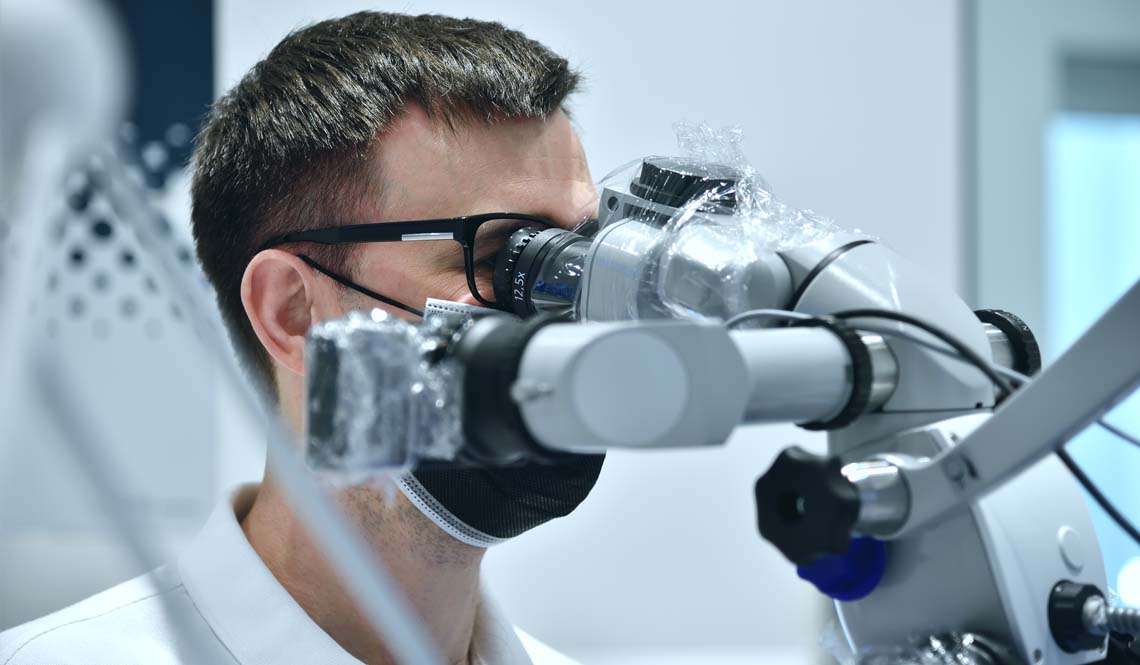 Endodontic Treatment
It is a treatment of dental canals - tooth roots. We provide machining and treatment of root canals.
Endodontics or root canal treatment is a way to save a tooth when its inner tissue has become infected or decayed, injured or the dental pulp is inflamed. It involves cleaning out the infected tissue and nerve inside the tooth root and replacing it with a special filling which prevents discolouration and further infections. Since the body's immune system is unable to heal an infection inside a tooth or tooth root by itself, root canal treatment is required to save the tooth and restore its function. Root canal treatment is performed using a dental microscope or other magnification technique.
The dental microscope is essential when working with root canals as the inner space of the tooth is difficult to see with the naked eye and the success rate of treatment without optical magnification technology is only about 80%. In order to provide a high-quality treatment, the dental microscope used at our clinic provides a significant magnification which ensures precision navigation through the intricate roots and canals area.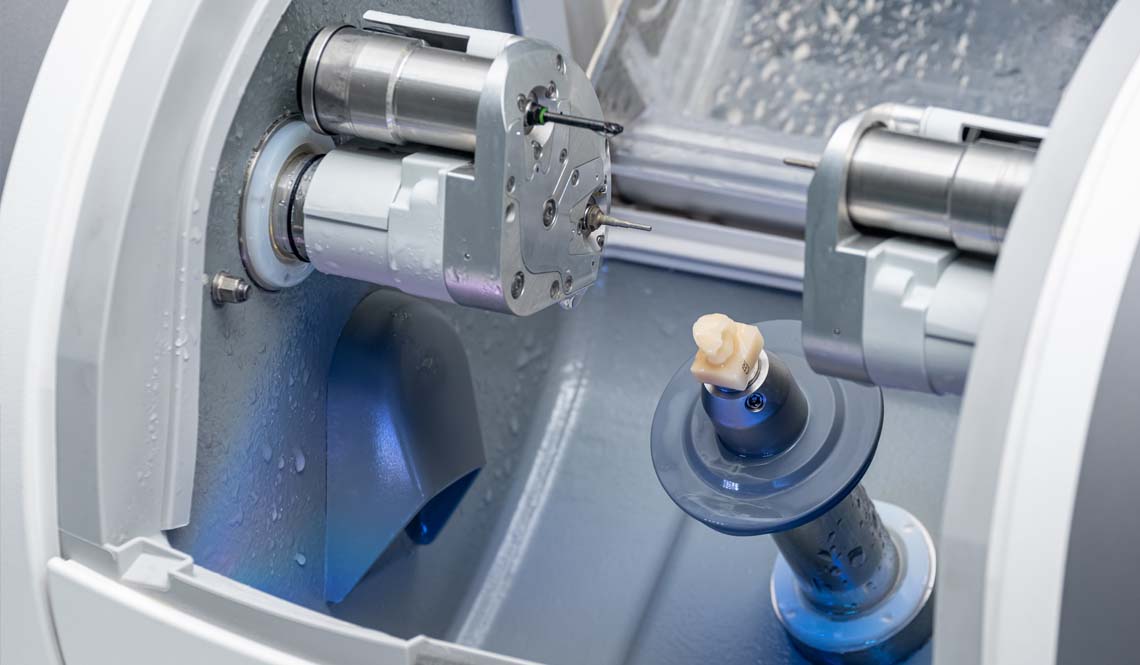 CEREC
CEREC is a dental robot that enables the production of dental prostheses, ie crowns, veneers, bridges as well as inlays and onlays (dental fillings)...
Perfect teeth while you wait – CEREC is a dental robot that enables the production of dentures, crowns, veneers, and bridges as well as inlays and onlays (replacement fillings) on a single visit to the dentist. The device is equipped with a scanner with a 3D camera, software that designs a 3D model of the denture based on the captured image, and, finally, a machining device that creates the desired denture out of ceramic (zircon, composite materials) within minutes. The all-ceramic materials used are very durable and hard-wearing, protect teeth against decay, and look great too. Many celebrities with gleaming Hollywood smiles have had their teeth done this way, though it may not be obvious at first glance.
Play video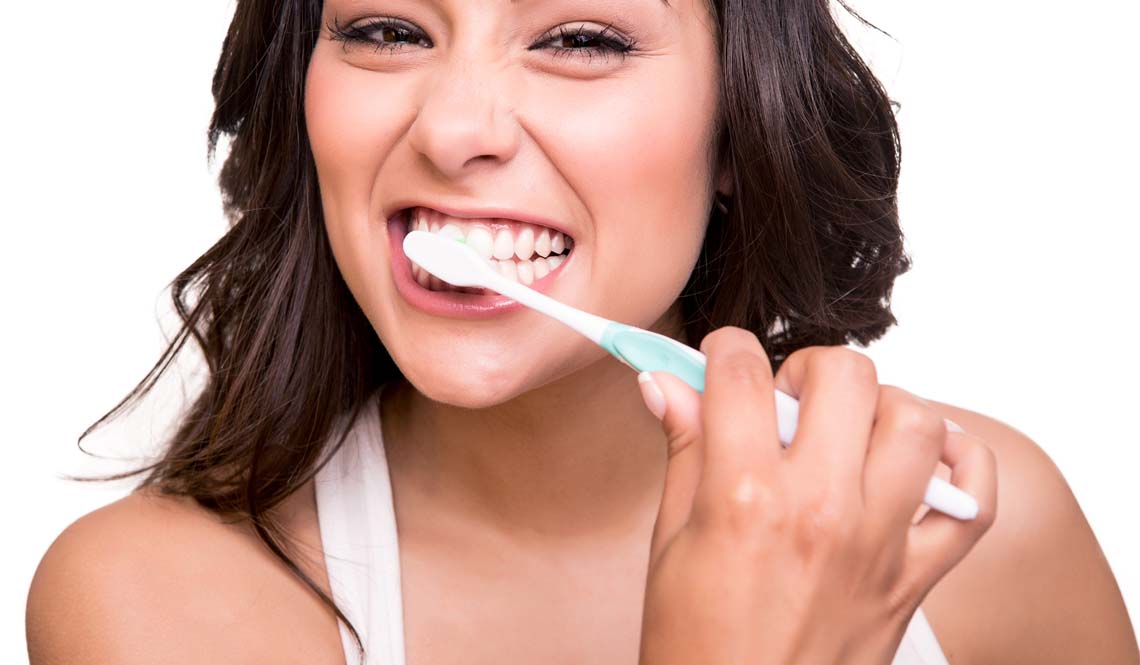 Dental Hygiene
Most of the problems that affect the teeth and surrounding tissues are due to the dental plaque that sticks to the teeth. With regular dental...
"Prevention" is a word that is always cropping up in dentistry especially when it comes to dental hygiene, which is an essential part of overall dental care. Our dentist or dental hygienist work to preserve the health of your smile by ensuring plaque and tartar which cause gingivitis, periodontal disease, and tooth decay are kept under control. During the treatment they also remove stains and explain how to take care of your teeth on daily basis for a brighter and healthier smile.
A dental hygienist performs the following tasks:
Scale and polish (ultrasonic and/or hand scaling),
Deep clean tailored for treating periodontal gum disease,
Air polish for stain removal – AirFlow,
Provide oral hygiene advice so you can implement an effective home care routine,
Teeth whitening.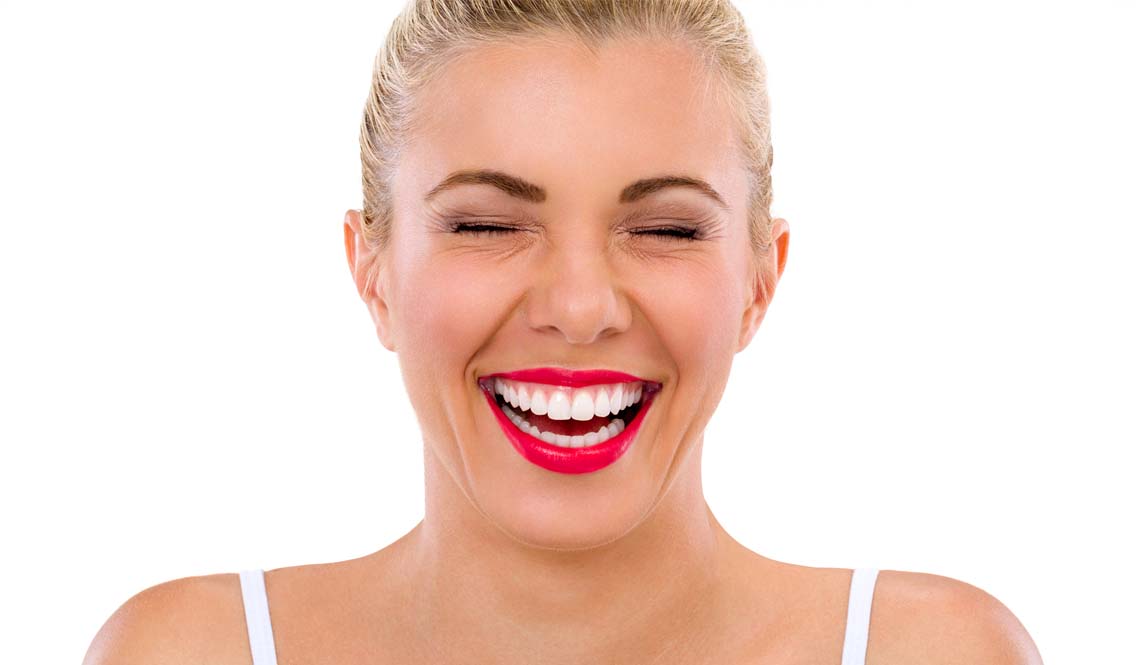 Teeth Whitening
Teeth whitening is preceded by a preventive examination and dental hygiene. It is necessary to eliminate the presence of tooth decay and remove...
Professional teeth whitening
The Pure Whitening method is one of most effective and gentle methods for teeth whitening in dental practice. The method employs custom-made transparent trays that the client fills with a special whitening gel. The whitening process take up to two hours. It is a quick and effective procedure.
Tooth whitening is preceded by a preventive examination and dental hygiene. It is necessary to cure gingivitis or periodontitis and remove tartar or surface stain.
This type of whitening is preceded by home whitening.
Home teeth whitening
For home whitening, customers are provided with an at-home kit and custom whiting trays to apply the gel at home. The gel is generally applied overnight until the desired outcome is achieved. The custom-made trays remain with the client and can be reused once every 2-3 months. .